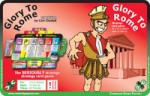 It looks like Cambridge Games Factory has finally seen the light and will be reprinting one of our favorite games: Glory to Rome!
In a recent post on BoardGameGeek, Wakefield Carter (the game publisher's new commercial director) laid out their plans for reprinting Glory to Rome (as well as another one of their games: Zombie in my Pocket).  Here's an excerpt from the original post in the thread:
Our priority right now is getting Glory to Rome and Zombie in my Pocket into shops as quickly as possible (we want to sell them as much as you want to buy them!). Unlike many games companies CGF prints / source game components as we need them from multiple suppliers and then assemble the games ourselves. We'll be able to get you more exact dates shortly, but Zombie in my Pocket only needs additional rulebooks printed so will be back on the market in a few weeks while Glory to Rome needs playing card decks which take a few months to produce, especially as we weren't happy with the company we used last time around and so are looking for a new printer.
Concerning the time frame for release, Carter had this to say:
I'm afraid it's still too early to start giving dates. It will be the length of time it takes to check that we're happy with the printer, plus the length of time to get the print run underway (possibly including an initial sample print run), plus the length of time for the printers to print the cards, plus the length of time to get the cards back to the USA, plus the lenth of time to pack the games, plus the length of time to ship them to the shops.

That's not a calculation I feel able to estimate. Longer than one month, but hopefully not more than a few.
Needless to say, I'm pretty excited to see that this great game is finally going to make it back to store shelves.  It's a shame that it's had to remain obscure for so long, simply for a lack of availability.  I'll post updates as we learn more details.
Tags:
glory to rome
Like what you see? Let everyone know using the "Share/Save" button!