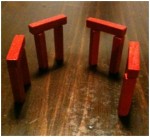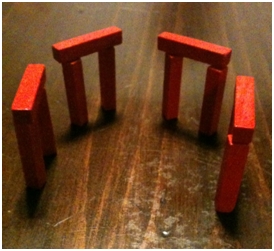 We like Settlers of Catan, but frankly it's not always one of our favorites.  While it's a great game, inevitably one person ends up with a lousy set of terrain, or a strategy that revolves around rolling a 3 every turn.  I was this player when we played Catan last week, so I had to find another way keep myself entertained and engaged with the group (well, kind of).
When you don't have any resources to trade, and you're only getting new resources about once every four turns, there's only so much you can build — on the game board.  So, I decided I would just build my own stuff off the game board.  Here's what I came up with:
So here's a challenge: what creations can you make with the game pieces for Settlers of Catan?  Send us your pictures and we'll post them.  Also let us know if you have any suggestions for creations from other game pieces.
[Editor's note: While Michelle did get cornered the first game and spent the whole time making things with the game pieces, it's worth noting that we played a second game of Settlers of Catan after that.  She crushed us, getting 10 points before anyone else even had 7.  Gotta watch her; she comes out of nowhere like a ninja on some of these games.]
Tags:
humor
,
settlers of catan
Like what you see? Let everyone know using the "Share/Save" button!